Code of Conduct
Pitchfork seeks to be a welcoming summer festival and community. As a festival guest, you have an active role in creating an enjoyable and accepting environment for your fellow attendees, including speaking out when you see unacceptable behavior. Pitchfork has a zero-tolerance policy for harassment or discrimination of any kind, including but not limited to: race, color, national origin, sex, gender, sexual orientation, gender identity or expression, age, religion, and disability status.
Offensive behavior includes, but is not limited to:
Acts of physical assault or battery
Verbal abuse
Racial or ethnic slurs
Groping, sexual assault, or unwanted sexual remarks
Stalking
Threatening language
Any individuals or groups found in violation of this policy may be removed from the festival. If you feel you've been harassed, or feel unsafe, please visit our Response and Resource Center, or a festival staff member, or member of our security team.
Festival Dates & Hours
Pitchfork Music Festival will take place September 10–12, 2021 at Chicago's Union Park.
Gates will open each day at 12pm. Gate times are subject to change.
Main gates for the festival are on Ashland, south of Lake Street, and Washington Blvd./Ogden Ave.
You will need a valid photo ID, to complete our COVID-19 entry requirements (see below), and a digital ticket in order to enter.
Children 10 and under can attend the festival for free.
Festival Grounds
UNION PARK
1501 W. RANDOLPH ST.
CHICAGO, IL 60607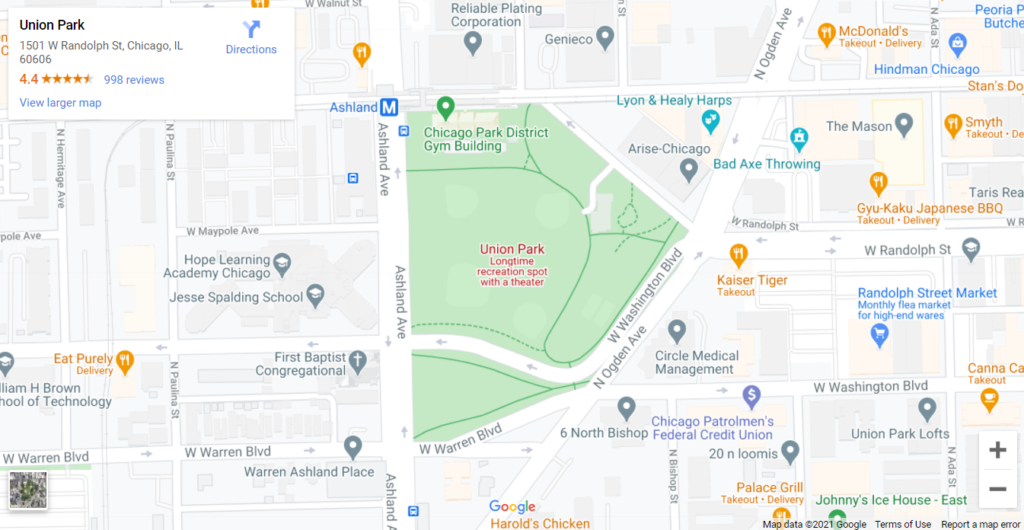 COVID-19 Entry Requirements
GENERAL ADMISSION & PLUS COVID ENTRY POLICY:
In accordance with City of Chicago requirements, full COVID-19 vaccination or negative COVID-19 test results will be required to attend the Pitchfork Music Festival. For patrons who are not fully vaccinated, a negative COVID-19 test result must be obtained within 24 hours each day that you attend the festival.
Attendees must bring a photo ID, and either proof of vaccination or a negative test.
ACCEPTED VACCINATION PROOF:
A photocopy of your vaccination card.
An electronic picture of your vaccination card on your phone.
ACCEPTED COVID TESTS:
Walgreens

– Appointments are required at various locations

CVS

– Appointments are required at various locations.
Curative

– Curative will be located 1 block away from the festival grounds and will be offering rapid tests from 8am–8pm, September 9–12.
Masks
In accordance with CDC and CDPH guidelines we recommend and encourage attendees to wear a mask except when actively eating or drinking. These guidelines are subject to change based on city and public health guidance. You can stay up-to-date with the latest information by keeping an eye out for Pitchfork Music Festival emails, visiting the Pitchfork Music Festival website, and following @pitchforkfest on Twitter, Instagram, and Facebook.
Buying Tickets
3-Day, Single Day, and PLUS tickets are available for sale HERE. If a ticket you are interested in sells out you can look for a ticket on Lyte, our official ticketing exchange partner.
We do not partner with any third-party ticket sellers and cannot verify tickets that are not purchased through the Pitchfork Music Festival website, Seetickets, or the official Lyte ticket exchange. We strongly encourage you to purchase through one of those 3 places in order to ensure a smooth festival experience.
All tickets are delivered digitally and will be accessible in your e-mail or your Seetickets account. If you cannot find your digital ticket you can contact Seetickets customer support HERE.
Q: What is the cost of tickets for minors? Do children under a certain age get in free?
A: 10 and under are free. Older than that are standard price.
Q: I purchased a 3-day pass but only received one ticket, should I use it for all 3 days?
A: Yes, your ticket is good for all three days. Bring it with you all three days. It will only scan once per day.
Q: Are there wristbands? Is re-entry allowed at the festival?
A: There are only wristbands for attendees who have purchased Pitchfork PLUS tickets. They are able to exit and re-enter as many times as they like.
Ticket Exchange & Refunds
There is a strict NO REFUND policy for this event. If the festival is postponed or rescheduled due to COVID-19, customers will get the opportunity to keep their passes for the new dates or request a refund.
By purchasing a ticket for our 2021 event you agree to the Terms & Conditions.
Pitchfork has partnered with Lyte to give you flexibility with your tickets. We've made it easy to request tickets or submit a request to return your tickets after sell out, without any hassle. Simply visit here for more information and details.
If you have tested positive for COVID-19, or have faced extraordinary challenges in your ability to attend the festival (i.e. issues with international travel) before the festival and need assistance with your tickets please contact info@pitchforkmusicfestival.com

immediately.
Payment Plans
A payment plan is available for all ticket types. There are 3 installments. If you do not complete your payment there are no partial refunds available.
3-Day: 3 installments of $83.65
Single Day: 3 installments of $39.89
PLUS 3-Day: 3 installments of $162.84
PLUS Single Day: 3 installments of $82.05
PLUS
There is a special expedited PLUS entry where you will pick up your wristband to enter the festival. PLUS attendees are allowed come and go access through the PLUS entrances. This feature is subject to change pending advisement from city and public health officials.
PLUS is located directly across from the Blue Stage, in a tree-filled area on the south end of the park—a perfect place to call home base for the entire weekend. The PLUS experience includes:
Curated food and cocktails from a notable Chicago restaurant and private bars
Air-conditioned bathrooms
An elevated viewing platform of the Blue Stage
Shaded seating and dining areas
Cell-phone charging*
Complimentary storage lockers*
Exclusive and expedited entry to festival
"Come and Go" re-entry access to the festival grounds**
Dedicated concierge service with festival essentials and a merch coupon
Free refreshments, paletas and other fun touches to be announced
*Available on a first-come, first-served basis
**Subject to prevailing COVID-19 compliance
Getting to The Festival
Car
The festival does not provide any parking for festival attendees. There are no sanctioned parking lots for public use in the Union Park area associated with the festival.
Bus
The Ashland #9 bus runs north/south and stops on the western edge of Union Park. The Madison #20 bus runs east/west and stops just south of the park, it also runs directly from Ogilvie station and is a short walk from Union Station downtown.
Train
The Ashland stop on the Green and Pink lines is right at the northwest corner of the park. There is an accessible entrance.
Bike Parking
Biking is a great way to get to the festival. Every year we provide a safe lot to park your bike while you attend the festival. There is a secure bike parking lot just north of the festivals main entrance at 325 N. Ashland.
Working Bikes will be spreading bicycle love at the festival, welcoming cyclists to the bike parking and providing air for tires and some quick adjustments to keep the bikes rolling and fitted right to riders. They'll also have the fan-favorite chainring toss carnival game, with fabulous prizes in store for anyone skilled enough to land chainrings on an inverted saddle and seat post!
On-Site
Lost and Found is located in the will call trailer on Ashland Avenue. You can pick up lost and found items at Union park for one week after the festival.
By entering the festival grounds you will be agreeing to allow your image to possibly be photographed or filmed for the use of the producers. You are not allowed to bring in video cameras or professional-quality cameras, including cameras with detachable lenses.
All acts advertised have confirmed their appearance at the Pitchfork Music Festival. Acts, however, are subject to change without notice. A complete list of set times will be released in the weeks before the festival, but may be subject to change.
Credit cards accepted at all points of purchase for beer, wine, and cocktails.
Cash-users can purchase drink tickets to redeem for beer, wine and cocktails at the bars.
There will be festival and artist merch available at the Merch tent on festival grounds.
There are water refill stations available for you to refill your water bottles. Please stay hydrated!
Allowed and Prohibited
No outside food or beverage allowed, except two sealed bottles of water. We will allow reusable water bottles but they need to empty upon entry.
No video recorders and no cameras with detachable lenses will be allowed on the festival grounds. If you are at all unsure about the equipment you're planning to bring, leave it at home!
All attendees will be searched upon entering the festival grounds. You will need to empty your pockets, and have all your items examined. If you have an approved-size bag or purse (see Allowed Items List below), security will examine that as well. We reserve the right to refuse entry to anyone. If you bring any of the items on the above prohibited items list into the festival, such items will be confiscated and discarded and you can be subject to removal from the festival based on the sole discretion of festival management. Under no circumstances will festival management hold any prohibited items for you.
Prohibited Items
No glass of any kind
No weapons of any kind (regardless of permit)
No pepper spray
No paint of any kind (including paint markers and spray paint)
No fireworks
No illegal substances
No drugs or drug paraphernalia
No bike chains, bike locks, wallet chains (that exceed 12 inches in length and a width of 1 inch)
No laser pointers
No professional grade radios or walkie talkies
No tents, canopies, or umbrellas (larger than 1 foot/12 inches)
No flags or totem poles
No unsealed tampons
No pre-filled vape pens (see allowed list below for vape specifics)
No stuffed animals/dolls (including stuffed animal purses)
No unauthorized/unlicensed vendors
No unauthorized solicitation of materials, including handbills, flyers, stickers, beach balls, giveaways, samples, etc.
No wagons, skateboards, bicycles, scooters, go-carts, hoverboards, or ATVs
No pets, unless it is a service animal
No coolers
No outside food or drinks
No open containers
No multi-pocket backpacks or bags
No bags bigger than 14" x 11" x 5" (35cm x 28cm x 12cm) including purses
No bota bags (empty hydration packs and CamelBaks are permitted; must be able to remove water pouch from bag)
No push carts
No sports equipment (including frisbees)
No flammable products
No professional cameras, detachable lenses, tripods, GoPro sticks, monopods, audio recording devices/equipment, or selfie sticks
No laptops or iPads/tablets
No projectiles or explosives
No knives or sharp objects, including pocket knives
No water guns or misters
No chairs
No hammocks
No inflatable couches
No grills of any kind (including propane and charcoal)
No generators
No gas masks or tactical gear
No aerosol cans (including deodorant, bug spray, sunscreen and perfume)
No drones, remote flying devices or unmanned aerial vehicles
Any other items deemed as posing a threat to the safe enjoyment of the patrons
Permitted Items
Please visit this website regularly for the most up-to-date information.
Strollers accompanied with a child
Factory sealed tampons
Blankets, sheets, and towels
Binoculars
Factory sealed vape pens, factory sealed vape cartridges, empty vape pens
GoPro Cameras (no GoPro sticks), point and shoot cameras, disposable cameras
Bags will be restricted to small purses/satchels/fanny packs/drawstring bags, and may not exceed 14" x 11" x 5" (35cm x 28cm x 12cm)
Two factory sealed bottles of water (up to 1 liter each). Security will break the seal upon entry
Empty CamelBaks, empty hydration packs (must be able to remove water pouch from bag) and empty water bottles (plastic or aluminum only) with a max size of 36oz.
Sun block (non-aerosol). Does not need to be factory sealed.
Factory sealed bug spray (non-aerosol). Security will break the seal upon entry
Safety and Security
An inherent risk of exposure to COVID-19 exists in any place where people gather. COVID-19 is an extremely contagious disease that can lead to severe illness and death. As festival dates approach, we will provide our community with pertinent information on festival preparedness, including what may be required beyond a ticket to enter festival grounds. By purchasing a ticket, you agree to comply with all Federal, State, and Local laws, ordinance, regulations, and the rules of the Event Organizers when attending the event.
Volunteers
If you are a NPF interested in partnering with the festival please contact info@pitchforkmusicfestival.com.
We do not accept individual volunteers at the festival. If you are interested in volunteering through one of our nonprofit organizational partners, please check back at our website at a later date for the list of participating organizations.
Medical Questions
If you have pre-existing medical conditions that require medication, special diets, or simply awareness, please notify our security staff when entering the festival. They can direct you to our first aid tent near the main gate to ensure that medications are properly stored, and other needs are met. Please bring a copy of a letter from a medical professional. If you have any medical-related questions, please email our staff ahead of the festival at info@pitchforkmusicfestival.com.
Medication
Anyone needing prescription medicine at the festival must present the pharmacy-labeled container which states the prescription, dosage, and patient name to our medical staff at each entrance gate. The medicine in the container must match the prescription medicine noted on the label on the container (i.e. the container cannot contain multiple types of medicine). The name on the container must match a government issued ID. Patrons are only allowed a sufficient supply of the prescribed medication for that day. Medicines needing to be inhaled or smoked are prohibited unless in a prescribed inhaler. Over the counter medications are allowed in a sufficient supply for the day. Bottle contents will be verified by medical personnel at the entry gates.
In addition to our First Aid tent and medical staff, Pitchfork Music Festival has an on-site Resource and Response Center where professionally trained counselors and a dedicated security team will be available to attendees who witness or experience behavior in violation of Pitchfork Music Festival's Code of Conduct.
ADA Access
The Pitchfork Music Festival is committed to making its facilities accessible and usable by all patrons and visitors. There are ramps from the sidewalks to the street, ADA restrooms, and an ADA entrance on Ashland, just north of the main entrance.
We have designated viewing platforms for ADA festival attendees at all three stages. In order to access these platforms, please check-in at the ADA entrance.
In order to help us create the best experience for you, please contact us ahead of time with any questions, needs or concerns. If you need space to store any equipment such as oxygen tanks or insulin, please email us ahead of time at info@pitchforkmusicfestival.com, so that we can make accommodations.
Additional Questions
We make every effort to create a safe environment on the festival grounds, including public and private security and medical staff throughout the festival. If you have a specific question regarding safety, security, medical information, or another question regarding the festival please contact us at info@pitchforkmusicfestival.com.
For more information as it's released about lineup, features, vendors, and more go to pitchforkmusicfestival.com and follow up on social media at @pitchforkfest.
If you have any questions or concerns regarding your order, please visit seetickets.us.
See Tickets Customer Support can be reached via email at help@seetickets.us. (The team will get back to you within 24 hours) or by phone at 1-855-235-2867 (8am–7pm PT, Mon–Sat).