Experience
Since 2006, the Pitchfork Music Festival has consistently proven to be one of the most welcoming, comfortable, reasonably priced, and rewarding weekends of music around. Hosting 60,000 attendees of all ages from all 50 states and dozens of countries, Pitchfork Music Festival showcases the best up-and-coming music from around the world, as well as special performances from touring stalwarts and legends alike.
Featuring diverse vendors, as well as specialty record and craft fairs, the festival works to support local businesses while promoting the Chicago arts and food communities as a whole. We maintain a commitment to keeping ticket prices affordable, providing new and useful amenities, and working with the city's best local vendors each year. Stay tuned for more festival feature updates soon.
CHIRP RECORD FAIR
CHIRP has run a vinyl Record Fair near the east edge of the Pitchfork Music Fest since its inception, this year with many  tables of indie labels, local record stores, and independent dealers.
FLATSTOCK POSTER FAIR
The country's best show-poster artists gather to share their work and sell prints at Flatstock, hosted by the American Poster Institute and Speedball.
RENEGADE CRAFT FAIR
Renegade Craft brings together artists on the forefront of their craft with an audience of conscious consumers dedicated to supporting handmade and advancing the creative economy.
Ancillary Events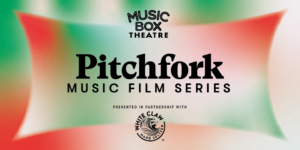 Pitchfork Music Film Series
Pitchfork is proud to announce a new film series at the Music Box Theatre in Chicago, showcasing three beloved music movies — 20 Feet From Stardom, I Am Trying to Break Your Heart, and Josie and the Pussycats— followed by extraordinary guests in conversation with Pitchfork contributors and staff ahead of Pitchfork Music Festival 2021.
The film series will run from September 6-8, with one screening each night. The Pitchfork Music Film Series is presented in partnership with White Claw. Tickets are available to the general public now; find tickets here.